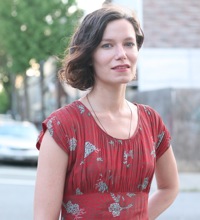 Jessica Kerwin Jenkins was a reporter and an editor at Women's Wear Daily in New York, and worked in Paris as European editor for W magazine. She has written for Vogue and The New York Time Book Review, and lives on the coast of Maine, where she is at work on a new book.
Encyclopedia of the Exquisite is her first book.
"These entries sprang directly from a file I kept on my desk, bulging with scribbled scraps, newspaper articles, quotes and curious images I'd found—anything that lit a spark, dazzled me or made the world seem suddenly vast and strange. In my mind I called the collection, 'Why I Like It Here,' 'here' meaning on the planet. If I was having a bad day, flipping through the file could sweep me into a dreamy demimonde where things didn't seem so bad.
Beyond the examples of the exquisite, which you'll find in the book, and sometimes on this site, I also hope that the central ideas behind the Encyclopedia—that with searching, beauty can be found in the most unlikely places, that folly is essential, and that luxury doesn't mean spending lots of money—will deliver a happiness with the potential to make all our lives that much more exquisite."
She started this blog after the book was finished and sent off to her editors because she wasn't done searching yet.
jessica.kerwin.jenkins (at) gmail.com